Planet Honda Blog: Rise Of Shopping Online For Cars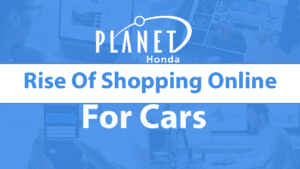 Rise of Shopping Online for Cars
Planet Honda is a well-known dealership located in Golden, Colorado that offers a wide range of Honda vehicles and comprehensive car care services. With an extensive inventory of new and used cars, as well as a team of certified technicians, Planet Honda provides customers with hassle-free car buying and ownership experience. Their commitment to customer satisfaction and community involvement has made them a trusted and reliable dealership in the area.
Online shopping has become increasingly popular in recent years and has also affected the automotive industry. At Planet Honda, customers have the option of either buying a car online or in-person. While both methods have their advantages, online shopping has gained popularity for its convenience and time-saving benefits. However, buying in-person at Planet Honda provides the opportunity to physically see and test drive your Honda before making a purchase. Ultimately, the decision between online and in-person shopping at Planet Honda depends on individual preferences and needs.
Planet Honda's express storefront offers a quick and easy car-buying process with a fixed price and no added fees. Planet Honda also provides comprehensive car care services, including a service center staffed by certified technicians and a parts department offering genuine Honda parts and accessories. Planet Honda's express storefront and features make car buying and ownership effortless and satisfying.
Planet Honda utilizes Google's vehicle ads to target potential customers who are actively searching for Honda cars or dealerships. These ads provide relevant information such as the car model, price, and location of the dealership, making it easier for customers to make informed decisions. Google's vehicle ads have been a successful marketing tool for Planet Honda, increasing their visibility and sales.