Planet Honda 5-Day, 250-Mile Money-Back Guarantee
Planet Automotive has been a family-owned small business since 1996. Our owners, Lee and Olga Payne, has a passion for doing the right thing. When asked about how he wants his business to operate, Lee mentions "the Golden Rule." Do unto others as you'd like them to do to you. Planet is not a big global, national, or even state-wide name. We are only three dealerships. But we have a commitment to making a positive impact for our customers and it dates back to our earliest days. We are one of the first Colorado dealerships to offer a 5-Day, 250-Mile Money-Back Guarantee. We've been doing this so long, we even have this goofy, out-of-date logo for it.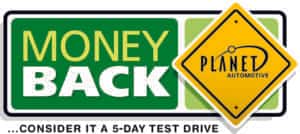 We sell cars for a living, yes, but the real story is we sell cars to people for a living. We are people, too. People are thoughtful, emotional, rational, irrational, and more. Car buying is the second largest buying decision in people's financial lives. It is a big deal. That is why we want to reduce the stress associated with this big deal. If you buy a new or used car – cash payment, lease, or finance – it doesn't matter which – you have a 5-day/250-mile window to return the vehicle and cancel the agreement. We won't make it difficult. We won't grill you or ask complicated questions.
We've offered a return policy since 1996. Our team is negotiation-free since 2013 (back before it was "a thing"). We haven't charged Dealer fees since 2013 (several CO dealers still do). We've used our Express digital tool where you can build your real payment in real time and buy with confidence since 2018. Our mission is to help people buy the right car for them; make it easy and stress-free; and be there for them before, during, and after their purchase